The adventures of Lori Buff, a studio potter and teacher, as she makes ceramic art and enjoys life with friends, family and some dogs. Travel and other interesting stuff is also discussed.
Featured
Get link

Facebook

Twitter

Pinterest

Email

Other Apps
Tea Pot Tuesday - Side Handled Tea Pot For Left Handed People
It's Tea Pot Tuesday again. You may remember from last week that Potter/blogger
Gary Rith
has started encouraging potters to post pictures of our tea pots on Tea Pot Tuesday. I'm not sure how long I can keep this up since I don't make too many tea pots, or maybe I'll be inspired to make more.
Today's tea pot is a small side handled tea pot. The side handle is an Asian design. I like the way it looks and I like that the handle does not get in way when you're filling the tea pot with boiling water. Yes, you could just put this pot in the microwave and heat the water that way but sometimes it's nice to use a tea kettle and listen for the whistle.
When I made the first set of
travel mugs
several readers commented that they are left handed and the mugs wouldn't work for them (actually, you can drink out of either side of these travel mugs so it's okay), which got me thinking. When I make other mugs I make some left handed and right handed but what about tea pots? I'm ambidextrous when drinking out of a mug but not when pouring tea. So I made this little tea pot so that left hand dominant people can use it comfortably, but I also made it small enough that it should be comfortable for a right handed person to use, just with their non-dominant hand.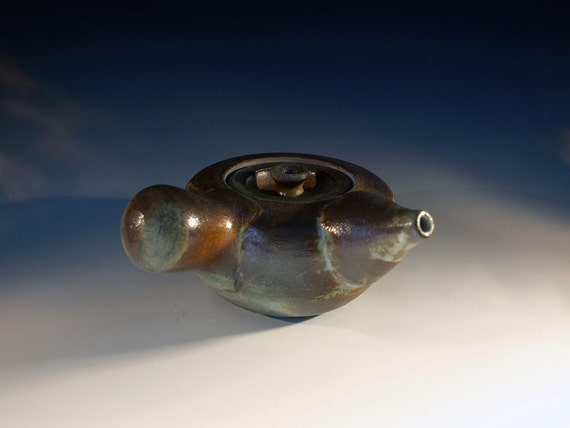 Side Handled Wood Fired Tea Pot
The tea pot was thrown with Highwater's Orangestone clay and fired in the wood kiln at Penland School of Crafts this past winter. You can see more pictures of it in my
Etsy Store
.
Check out the gallery page -
Future Relics Gallery
by Lori Buff
Get link

Facebook

Twitter

Pinterest

Email

Other Apps
Email Post
Popular Posts
Get link

Facebook

Twitter

Pinterest

Email

Other Apps
14 comments