The adventures of Lori Buff, a studio potter and teacher, as she makes ceramic art and enjoys life with friends, family and some dogs. Travel and other interesting stuff is also discussed.
Featured
How To Sell On Etsy, Or Not
At least once a year we should set goals for ourselves. Sometimes these goal are related to something like losing weight, sometimes they are related to something like learning or perfecting our craft, sometimes they are something like a going to a certain vacation destination. In any event, it's nice to have goals, it's important to set out to achieve something and either make it or evaluate why we didn't reach that goal.
As I've mentioned, I set a goal this year of growing my
Etsy
sales. I've been really terrible at maintaining the shop since I opened it. My first step was to open the shop, load a bunch of pictures then ignore it. I didn't interact with very many people on Etsy, I rarely posted any new pots, basically I just hoped the pots would sell themselves. Once in a while they did. It was awesome to wake up in the morning and realize that someone had bought something from me while I slept. Very cool but not very much or very often. Certainly not enough to earn a living. Yes, I have pottery in galleries and shops, I do festivals and shows but it's always good to have multiple streams of income rather than a bunch of pots sitting around waiting to go to their new homes.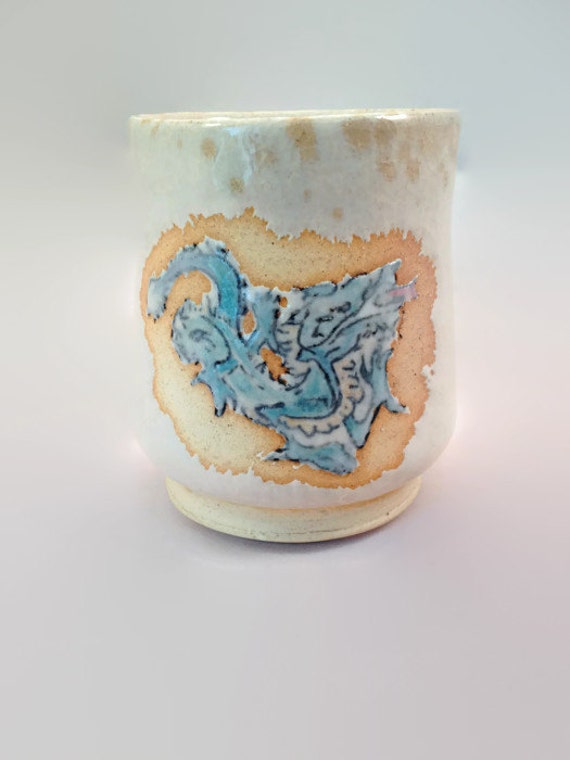 Dragon Yunomi
I've started posting more on Etsy and interacting with other people who use Etsy and sales have picked up a little but not much. So I did what everyone else seems to do and checked with the collective knowledge of the internet. I found a lot of articles about how to improve my sales. Most of those articles are very long and wordy with lot of links to other articles about how to improve your Etsy sales and those articles have lots of links to other articles that have lots of links to other articles...ENOUGH!
I'm a slow reader, I may even be a slow potter. If I have to spend half of my time reading about how to sell, and half my time doing these special things to help me sell then I'll never have time to create. I guess the best strategy is to just do the best you can and let that work. I've said that about making pots and it was true, I will bet it's true of selling them too.
Check out the gallery page -
Future Relics Gallery
by Lori Buff
Get link

Facebook

Twitter

Pinterest

Google+

Email

Other Apps
Email Post
Popular Posts
Get link

Facebook

Twitter

Pinterest

Google+

Email

Other Apps
14 comments
Get link

Facebook

Twitter

Pinterest

Google+

Email

Other Apps
8 comments