The adventures of Lori Buff, a studio potter and teacher, as she makes ceramic art and enjoys life with friends, family and some dogs. Travel and other interesting stuff is also discussed.
Featured
Get link

Facebook

Twitter

Pinterest

Email

Other Apps
Paper-clay?
Yesterday I was having some difficulties throwing this pot. It felt like I had an air bubble but when I tried to poke the bubble with my pin tool I realized something was actually in the clay. So I set about trying to dig out the offending matter. It turned out to be a large piece of cardboard.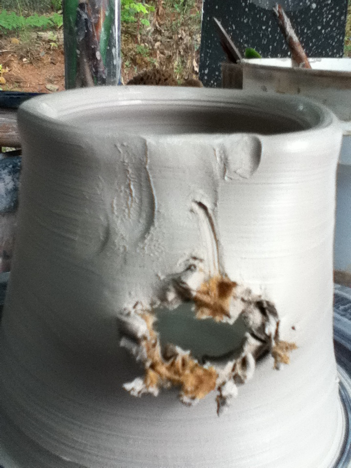 I had just opened this bag of clay so, even though I did wedge the clay I didn't do as through a job as I would have if the clay was being reused. I guess I learned my lesson. I just hope Highwater doesn't charge me extra for the paper-clay.
Get link

Facebook

Twitter

Pinterest

Email

Other Apps
Email Post
Popular Posts
Get link

Facebook

Twitter

Pinterest

Email

Other Apps
14 comments
Get link

Facebook

Twitter

Pinterest

Email

Other Apps
5 comments