The adventures of Lori Buff, a studio potter and teacher, as she makes ceramic art and enjoys life with friends, family and some dogs. Travel and other interesting stuff is also discussed.
Featured
Get link

Facebook

Twitter

Pinterest

Google+

Email

Other Apps
Good Karma At The Gift Show
Doing art shows can be fun and exciting as well as exhausting. At some point in every show I think "I'm too old for this." But I keep doing them for several reasons like meeting new people. Often the other artists and artisans are a lot of fun. We share information about shows and stuff, we make friends because of the common bond. Sometimes we create really good karma.
The NMP Gift Show was one of those shows with great karma. I'll give you an example. I had been fairly active on social media in promoting the show, I wrote a blog article, posted on twitter and liked some other artists work on Instagram before the show. It was no big deal and only took a little bit of time but I felt it paid off when one of the organizers came to my booth, thanked me for doing that and then bought a few pots from me. Later someone else from the show posted a picture of one of my pieces and it sold within the hour. It felt like good karma.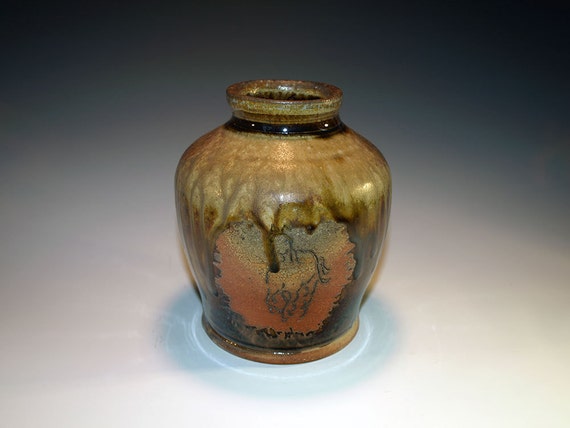 Wood Fired Horse Vase
The next day I made friends with a woman that knit really funky scarves and hats and such. She was a lot of fun and was promoting positive energy for a good show for all. She's one of those people with a great spirit. She bought a smiling soap holder from me for her mom but as we were talking to another artists the bag slipped from her hand and the pot broke. Sometimes the wrapping is just not enough to cushion against a hard floor. I let her pick out a replacement but would not take her money, stuff breaks, it was nobodies fault. Finally I had to say "if you have really great sales today I'll let you pay for a new one, if not, don't worry about it." At the end of the day she came to me with cash and a nice warm hat. She said it was a good day. I believe it was.
Check out the gallery page -
Future Relics Gallery
by Lori Buff
Get link

Facebook

Twitter

Pinterest

Google+

Email

Other Apps
Email Post
Popular Posts
Get link

Facebook

Twitter

Pinterest

Google+

Email

Other Apps
14 comments
Get link

Facebook

Twitter

Pinterest

Google+

Email

Other Apps
8 comments